Welcome to the website of the
Chinese Language Teachers Association of Western Pennsylvania
(CLTA-WPA)
西賓州中文教師學會
(西宾州中文教师学会)
http://www.clta-wpa.org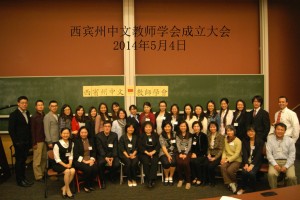 See more photos from our Inaugural Conference hosted by CMU on May 4, 2014!
大家好! 歡迎來訪西賓州中文教師學會網站!
(大家好! 欢迎来访西宾州中文教师学会网站!)
Welcome!  The Chinese Language Teachers Association of Western Pennsylvania (CLTA-WPA) is registered with the Commonwealth of Pennsylvania. CLTA-WPA, also known by its Chinese name 西賓州中文教師學會 (西宾州中文教师学会), is a nonpolitical, nonprofit, academic, and educational organization.
The mission of the CLTA-WPA is to advance the teaching of the Chinese language and culture in the western Pennsylvania area, and to support Chinese language teachers through opportunities for professional development and for exchange of experiences and ideas. We welcome anyone who is interested in Chinese language and culture teaching and learning to join us. Write to us: info@clta-wpa.org